w i n t e r c a m p i n g (𝘤𝘰𝘮𝘧𝘺𝘣𝘶𝘵𝘯𝘰𝘵𝘵𝘰𝘰𝘮𝘶𝘤𝘩)

When the thin branches are piled over the grass in a

cold winter morning
and soon the flame starts to make the
cold //retreat//, there is something else that announces .itself.
there. An ancient *mystery*, as the cosiness of a
𝐭𝐡𝐮𝐧𝐝𝐞𝐫 𝐢𝐧 𝐭𝐡𝐞 𝐝𝐢𝐬𝐭𝐚𝐧𝐜𝐞.
There is a shelter in %adversity, and immense joy sprouts
from the simple things of existence. The sips of wine and the decrepit
winter's view snuggles and numbs the soul. It's the peak of introspection of
which just the 𝖜𝖎𝖓𝖙𝖗𝖞 𝖘𝖔𝖑𝖎𝖙𝖚𝖉𝖊 knows about. In the coordination of the
\\Outside// elements, a shelter opens itself and a comfy feeling
throws one to inside of himself.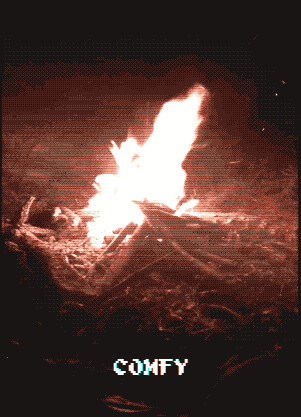 ★゜・。。・゜゜・。。・゜☆゜・。。・゜゜・。。・゜★゜・。。・゜゜・。。・゜ ☆゜・。。・゜゜・。。・゜★

"Nature is the great realm of things, which demands nothing of us, which neither pursues us nor asks for sentimental reactions, which stands mutely before

us as a world to itself, external and alien. This is exactly what we need... this reality, always grand and distant, resting in itself, beyond all the little joys

and the little sorrows of man. A world of objects, enclosed in itself, in which we ourselves feel like an object. Completely detached from everything merely

subjective, from every personal vanity and nullity:

this is what nature is for us."

- Matzke, quoted by Julius Evola in Ride the Tiger

★゜・。。・゜゜・。。・゜☆゜・。。・゜゜・。。・゜ ★゜・。。・゜゜・。。・゜☆゜・。。・゜゜・。。・゜★